Our patent-pending Elastic Box Bands were born to help stop Box Separation Anxiety!
Our box bands stretch out across the board game boxes keeping them tight and secure.
Includes:
Set of 4 (Two, 8" straps and Two, 11" straps)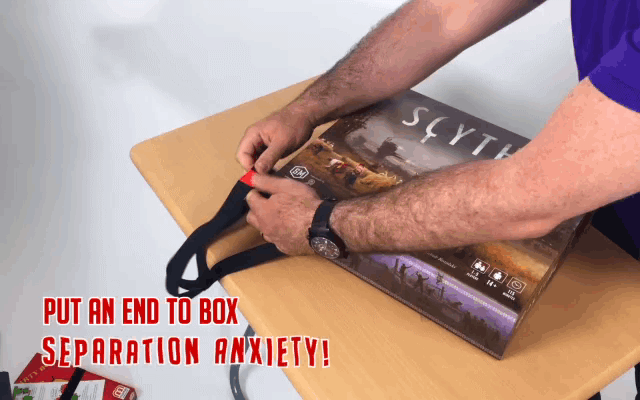 Bulk Discounts:
Buy 2 - 3 and get 10% off
Buy 4 or above and get 15% off
I have used the rubberized box bands from another retailer in the past. I was disappointed with the difficulty in removing them from my shelves (and the boxes) because they are really thick and have a lot of friction. These elastic bands blow them out of the water! I can slide them onto and off the shelf with ease, they hold the boxes closed while also having some give to come off easily when I want to open up my board gamey goodness. I will definitely be trying to grab more here in the near future. As for my wishlist for things, I have not had them long enough to see if they elastic wears out (but at the price listed for ten it's not bad if they last for a couple years). I also really look forward to additional sizes perhaps showing up in the future. My Scythe Legendary Box stays closed pretty well, but the extra security and tension would help with the quarter inch rise I have from having everything in there. Thanks GEEKON!